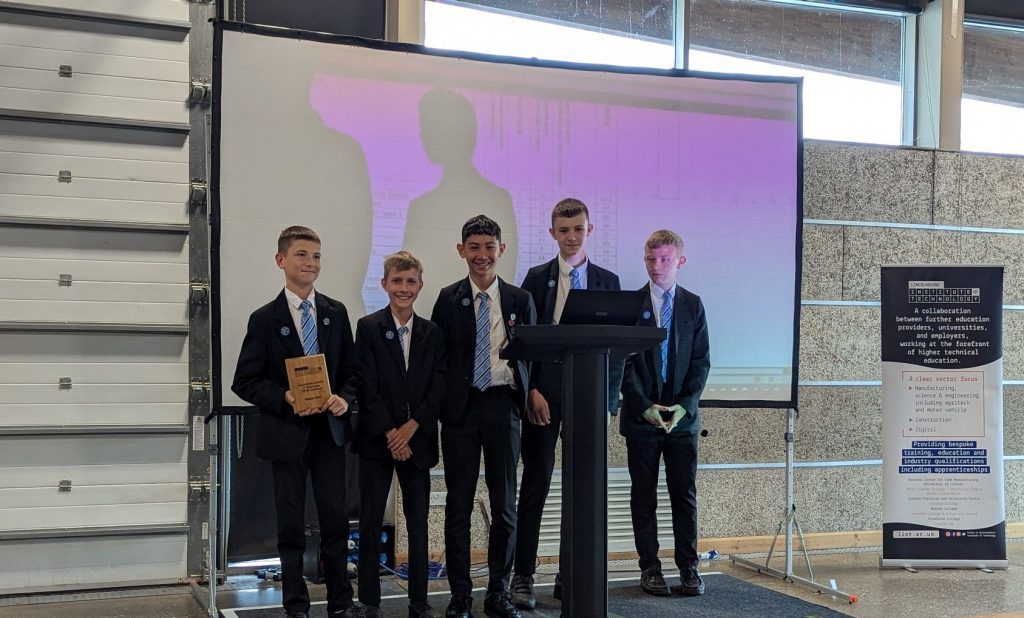 Year 9 pupils have competed in the 'School Dustbin Windmill STEM Challenge', courtesy of the Lincolnshire Institute of Technology. 
The final was held at the EPIC Centre, Lincolnshire Showground on Thursday 13th July. The STEM Challenge was aimed at year nine pupils to find out more about wind as a power source and recycling. The teams had 3 months to design, build and test a windmill made from recycled materials and also submit a written paper reflecting on their employability skills used and developed during the challenge.  
The Challenge started in April with the final bringing together teams to have their windmills tested to see how much power they could produce and to test their design, build quality and use of recycled materials. The challenge was offered by the Lincolnshire Institute of Technology in partnership with the STEM Ambassadors and Greater Lincolnshire LEP Careers Hub. 
18 schools from across the region participated in the Challenge, with 16 reaching the final which included: Casterton College Rutland, Lincoln Castle Academy Lincoln, Kesteven & Grantham Girls, School Grantham, Ambergate Sports College Grantham, Bourne Grammar School Bourne, Bourne Academy Bourne, Boston Grammar School (2 teams), Giles Academy Boston, Cowley Academy Spalding, Spalding Academy Spalding, University Academy Holbeach Spalding, Healing Academy Grimsby, John Whitgift Academy Grimsby, Somercotes Academy Louth, Louth Academy Louth and Scunthorpe UTC. 
The final week schools brought their dustbin windmills and went through the final stages of the competition which included assessing the aesthetics of the design; creative use of a wide variety of waste materials (the proportion of the build which uses recycled materials); build quality (ability to withstand high wind conditions); power generated across the range of wind speeds (connected to a circuit with 10Ω resistance) and ability to cope with changing direction (without manual intervention). The scores  together with their written assignment scores produced the winners: 
1st Somercotes Academy (£500 prize to the school and £25 per student). 
2nd Kesteven and Grantham Girls School (£100 prize to the school and £15 per student). 
Joint 3rd Ambergate Sports Academy and Boston Grammar School (team 1). (£100 prize to each school and £15 per student). 
Mick Lochran (LIoT Director) said: "This is the first Challenge Lincolnshire IoT has run and we have been delighted how successful it has been. We were really pleased with how many schools participated and that they have come from across the county. It has given students a real opportunity to research wind energy and recycling and to think about STEM careers for their future. It's been wonderful to see how creative the students have been and how much they have enjoyed the challenge; the final was great fun as well as very competitive." 
Lincolnshire Institute of Technology (LIoT) is a partnership of the University of Lincoln, Grimsby Institute and University Centre, University Campus North Lincolnshire and North Lindsey College, Lincoln College, Grantham College and University Centre, Boston College, Riseholme College and Lincoln UTC. The focus is on higher level skills with students studying level 3 to level 6 manufacturing and engineering, agritech, construction, digital or motor vehicle qualifications. LIoT works with over 3000 employers in Lincolnshire and is particularly supported by Bakkavor, OAL and Siemens. The Institute is one of a small number of Institutes of Technology nationally, funded jointly by LIoT partners and the Department of Education. www.institutesoftechnology.org.uk 
Today's major worldwide challenges include waste management and green energy. How do we minimise the generation of waste and recycle any waste we create? How do we move to environmentally safe generation of energy and minimise our carbon footprint and hence our impact on the world's climate? These challenges are being faced by governments and industry globally and specifically within Lincolnshire.  
Employment opportunities are available within the sectors Engineering, construction including civil engineering, and a full range of support roles are based with employers in the region as well as across the Midlands, Yorkshire and Humber and the North East. 
For further information please contact Jill Cooper (LIoT Project Manager) via email at jicooper@lincoln.ac.uk  or call 07984620209.