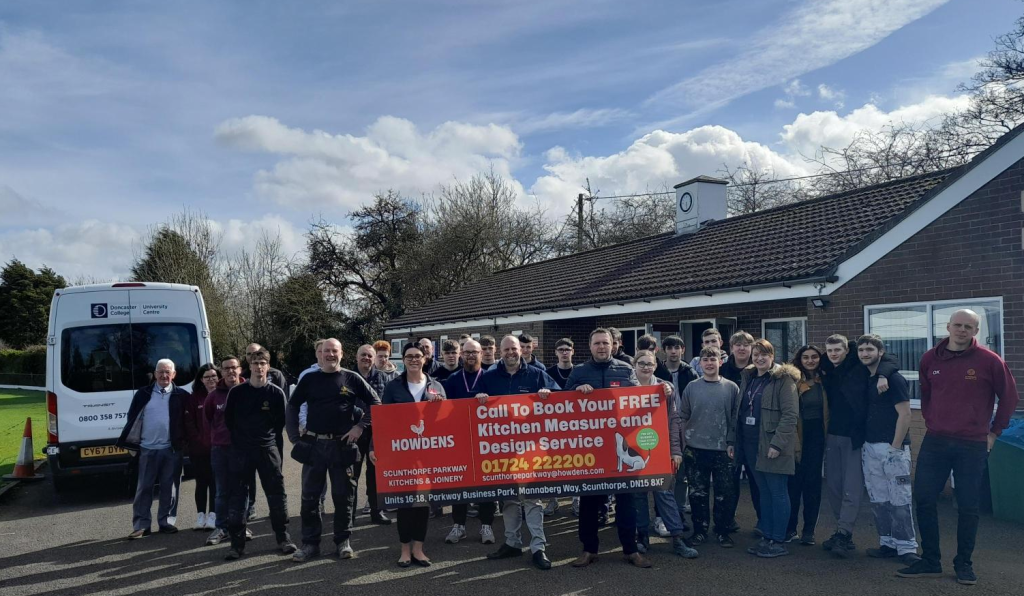 Thirty Construction students have been putting their skills to good use as they help to bring back Alkborough Cricket Club to its former glory. 
The students from a range of courses in construction have completed the renovation in just four months whilst taking away with them a host of new skills and work experience.  
This project included a full kitchen re-ft which was supplied by Howdens Joinery, the changing rooms and toilets were re-located with the addition of a disabled toilet and the hall was also re-decorated. Other sponsors of the project came from Jotun Paints, MKM Building Supplies, Crown Decorating Centre, GS Kelsey Construction Ltd, Valley Carpets, Veolia and Elite Tiles. 
The project came about after a member of staff who is closely linked to the club suggested the renovation project to Curriculum Leader in Construction, Mark Hornsby.  
Mark said, "This is another example of a great community project that our students have been able to gain real life experience from. As a department we like to take on at least one community project per academic year that our students are able to gain new skills and experiences from and involve all of our construction trades.  
"The students really enjoy working on these projects and it helps improves their performance on their course, develops their employability skills and also provides an opportunity to work and support each other across the different trades." 
Emily Adams (Spokesperson for Alkborough Cricket Club) said, "It has been great to manage the Alkborough cricket club community project over the winter months involving the students from North Lindsey College Construction department. The engagement in the project has been astounding from the staff and the students to support a full renovation of the clubhouse. We set out this as an opportunity for the students to experience their trade in a real-life project for them to gain work experience and requirements towards their assessments. We are happy to support the college in any future work experience we can offer." 
Harvey Gunn,(Level 2 Plastering Student) said, "I really enjoyed working at the cricket club in Alkborough. Between me and the other plasterer, we erected the stud walling, boarded the wall using plasterboard and drywall screws, and then plastered the wall. During the time I was there, I found the project to be very realistic, working alongside the different trades present at the time. After the work was completed, I was glad that they rewarded us with a BBQ and a few games of pool, as I see this as appreciation for the work done. I'm very pleased that I was offered this placement on-site and would love to be offered the experience again."