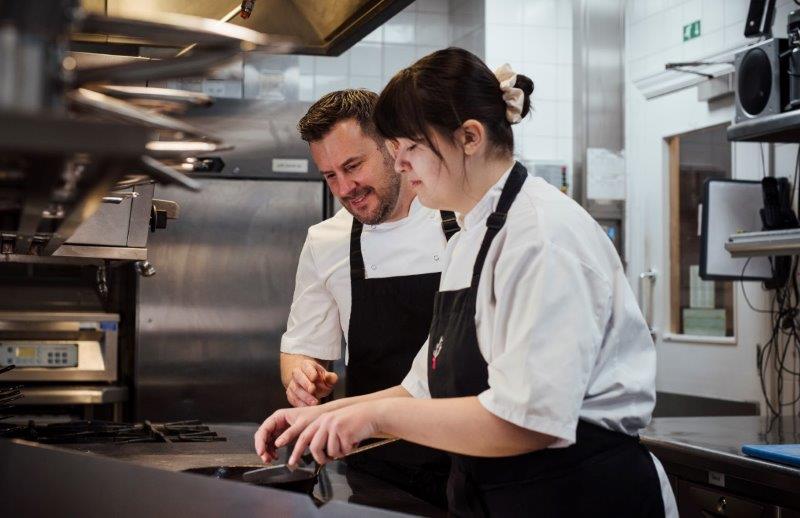 Zoe Priest (17) completed a six-week summer placement at Loch Lomond Golf Club in Scotland, which is one of the world's finest private Members' Clubs. Zoe made a huge impression on the Club and worked hard during her time spent there which resulted in her securing an apprenticeship at the prestigious golf club.   
The College has strong links with the Club as other students have also completed work experience there. The Executive Chef from Loch Lomond Golf Club, Darren Harrison, is a former student of North Lindsey College and was a very promising chef during his training. As a student he was noticed at the Scotch Lamb competition by the head judge Jeff Bland who was the Executive Chef from the famous Balmoral Hotel in Edinburgh. As a result of this Darren moved to Edinburgh after his studies to take up a position within the Balmoral's fine dining restaurant called Number One. This exposure into a professional kitchen was invaluable to him and he has since honed his skills in some of Scotland's most iconic hotels.   
Darren made the 285 mile journey specifically to come to North Lindsey College and meet with the staff, talk to the students and observe them working in the kitchen, this was then followed up with interviews with students via Microsoft Teams.   
Darren wants to support young talent and help give back to where it all started for him, which is great to have such a strong connection in the industry outside of our local area. He said: "As a former student of North Lindsey College I know that the invaluable training I received there has helped me carve out my career as a Chef. I therefore felt it was important to pay this back, to give an opportunity to a student from my hometown and to build a relationship with the College in order to nurture future talent.   
"I feel passionately about my chosen profession and know only too well how hard it is to get the support and opportunity to work in a successful and highly acclaimed kitchen. One of my many roles as an Executive Chef is to seek out upcoming talent that can add to an already successful and strong brigade."   
Darren continued, "When meeting Zoe for the first time I knew she had the makings of a good chef. This was due to her commitment and execution of every task given to her. A methodical work ethic and concentration are becoming harder to find within chefs, but Zoe displays all of these attributes, which will stand her in good stead for the future. Zoe shows great promise and is competent in dealing with any situation a busy service throws at her and has now cemented herself as a permanent member of my brigade for which all at Loch Lomond Golf Club are very proud. I look forward to building a long and successful relationship with the College and continuing to give the next generation of talent opportunities."   
Zoe will work in various types of outlets including banqueting, functions, a 'la carte restaurants and fine dining. She will use the skills and knowledge she has acquired from North Lindsey College as a catering student on the City and Guilds Level 2 Diploma in Professional Cookery.  
Zoe said, "During my time at College, I was offered multiple amazing opportunities, such as a 2 week all expenses paid trip to France by the Erasmus+ program for work experience, and I was also lucky enough to be given the opportunity to complete a 6-week summer placement at the prestigious Loch Lomond Golf Club in Scotland. But in addition to this, I met some of my closest friends and learnt some of the basic knowledge and tools that will serve me well for the next step in my career.   
"During my summer placement I was able to work and learn under the guidance of Senior Chefs who had Michelin Star kitchen experience. This has given me the chance through hard work to gain an apprenticeship as a Commis Chef at the Club working under the guidance of Executive Chef Darren Harrison, who is willing to help me learn and progress in my chosen career. The placement gave me the insight and exposure to a professional kitchen, whilst also maintaining controlled learning. In the future I'd love to be able to work my way up the employment ladder and to experience the different responsibilities that each role has and to understand them better."   
Applications are now open for students looking to enrol on a catering course at the College and have opportunities available to them to become successful in their chosen profession.