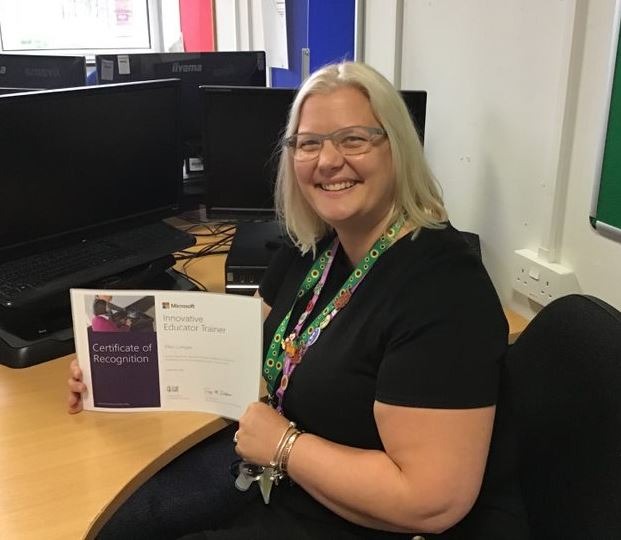 A Business tutor at North Lindsey College, part of DN Colleges Group, has become the latest Microsoft Innovative Trainer (MIE). 
Ellen Lumgair, who works at the popular Scunthorpe College, has now gained MIE status and is the first to achieve the accolade within DN Colleges Group. Phil Whitehead, the Digital Teaching and Learning Manager at North Lindsey and Microsoft Learning Consultant, is now a Master Trainer with Microsoft and has been Ellen's Mentor throughout the process.  
To become an MIE trainer Ellen undertook various CPD through the Microsoft Education Centre including the Student Teacher Education Program (STEP) which involved 36 hours of training and to complete the Instructor Led Trainer Academy. Becoming an MIE now means Ellen can train others and deliver bespoke training using Microsoft tools. To achieve this status, Ellen had to deliver training to 100 staff members, which took just three months to achieve. 
Ellen confessed that she was reluctant to embark on the digital skills training at first but knew she had to strengthen her knowledge to ensure she provides her students with the right skills to take into the workplace or onto university when they have finished their programmes of study.   
Phil said, "I am very proud of Ellen and the hard work she has put in to support North Lindsey College, she is a true advocate of educational technology and how using EdTech can support and improve the learning experiences for her students. She has used her own knowledge and skills to support other staff at the College who have since reaped the benefits of using Digital Tools. I am thrilled to see Ellen achieve this certification and get the recognition she deserves for her hard work."
Ellen enjoyed her new learn skills so much; she has now set her sights on becoming a Master Trainer though the Microsoft Education Programme and is keen to inspire others to do the same.  
Ellen said, "I like to be the best I can and pass this knowledge onto my students. Thank you to Phil for introducing me to this and being my mentor. I am looking forward to becoming a Master Trainer in the future."