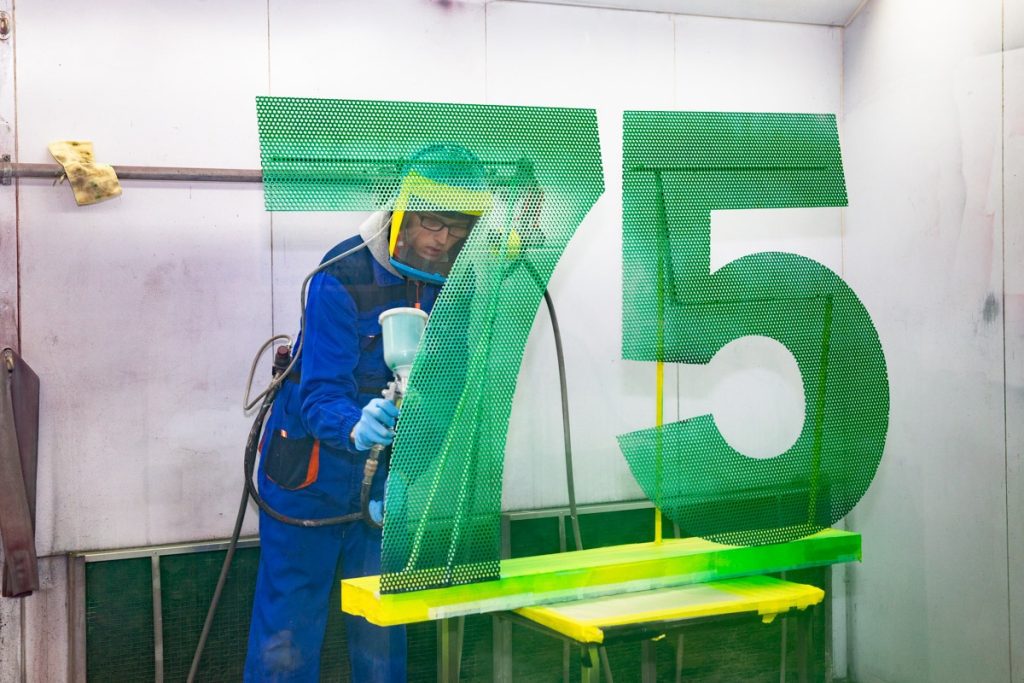 A team approach was in full swing across various departments in the Engineering Technology Centre at North Lindsey College, creating a symbolic sculpture to celebrate 75 years since Victory in Europe.   
Students began the work on the metal sculpture, which consists of a large metal frame incorporating the numbers seventy-five.  Fabrication and welding students created the poppies from metal before passing them on to the paint refinishing students to bring them to life, spraying them in an iconic red poppy colour before they are to be fixed to the framework.  
 The sculpture was promised to North Lincolnshire Council for various events including VE Day on 8th May, Armed Forces Flag Raising Day on 15th June, North Lincolnshire Armed Forces Day on 20th June, Lincolnshire Show on 24th and 25th June and Remembrance Sunday on 8th November.  
 Cllr Rob Waltham (Leader of North Lincolnshire Council) said, "It is so important that we continue to remember the sacrifices made by our servicemen, not just in the First World War, but across all conflicts. This new poppy sculpture, constructed by North Lindsey College students, will be a powerful way of honouring them. I look forward to seeing it in person." 
Joseph Winterbottom (16) Level 1 Diploma in Vehicle Accident Repair and former Trinity Academy student said, "It has been good spraying the poppies and the mesh to hold them onto.  We have been able to use different colours that we would not generally use when working on cars.  We have also learnt new spraying techniques and new skills which helps keep you interested." 
The engineering department, decided to create the sculpture to celebrate VE Day after the previous sculpture was such a huge success at the College, which was manufactured to celebrate 100 years since WW1. 
Phil Scott (Engineering Learning Facilitator) came up with the idea and has managed many previous community projects, having raised over £2000 for charity said, "This is another project that has meaning for the students to enjoy and get involved with whilst keeping the memories of our servicemen alive that fought for the country." 
The College has pledged to finish the sculpture when they return to the classrooms and will be placed in a prominent position in the community.