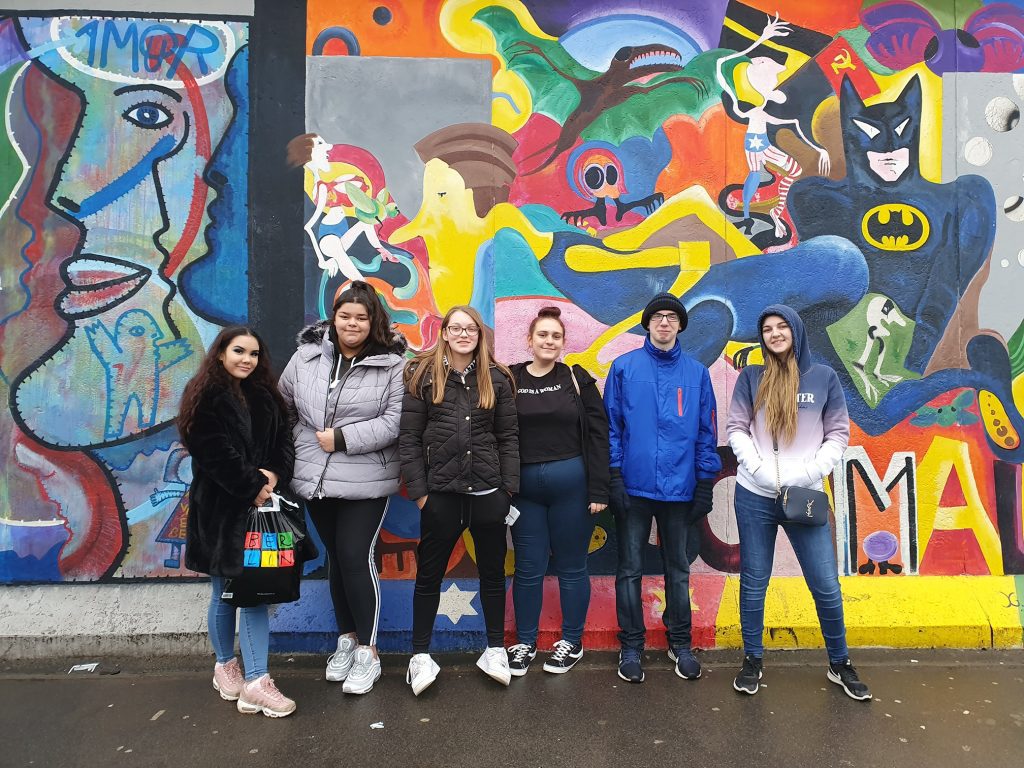 Students spent four action-packed days in Berlin, in a pre-booked visit to Germany's capital. The experience enabled some students to travel to another country, which some had not had the opportunity to do so before. 
Students flew from Manchester for an education trip which included a visit to the Holocaust memorial, East Side Gallery of the Berlin Wall, Berlin TV Tower which has breath-taking 360 degree views from a viewing platform which is 203 metres high. The students also experienced the architecture of Berlin Cathedral and sampled some of the local cuisine including a visit to the Hard Rock Café and a huge shopping mall based on four floors. 
Level 2 Travel and Tourism student, Jade Smith (17) said, "We are thankful to our tutor for such a good trip, she was really good.  The Berlin Wall was particularly interesting; we got to see all the artwork which I wasn't expecting.  I want to be a travel rep when I leave College and experiencing new places will help me get there and give me the confidence." 
Travel and Tourism students have previously had the opportunity to visit Belgium and Disneyland Paris.  Berlin was the choice this year due to its cultural attractions, two-hour flight and the affordability for students.  
Kayleigh Grierson (Travel and Tourism Tutor) organised the trip and all the experiences that came with it. Kayleigh said, "The trip was the best one so far; the skills the students picked up were really important for future employment such as problem solving, independence, responsibility, communication and so many more. They got the chance to experience an amazing city full of culture and experience the range of attractions on offer in the tourism industry." 
Level 2 Travel and Tourism Student, Molly Thornes (16) said, "I have never been abroad without family so this was a good opportunity.  The hostel was nice that we stayed in.  The Holocaust memorial was really good and we learnt a lot from it.  We had free time to ourselves to explore which was good.  Berlin is not somewhere I had ever considered visiting before but it was really good."