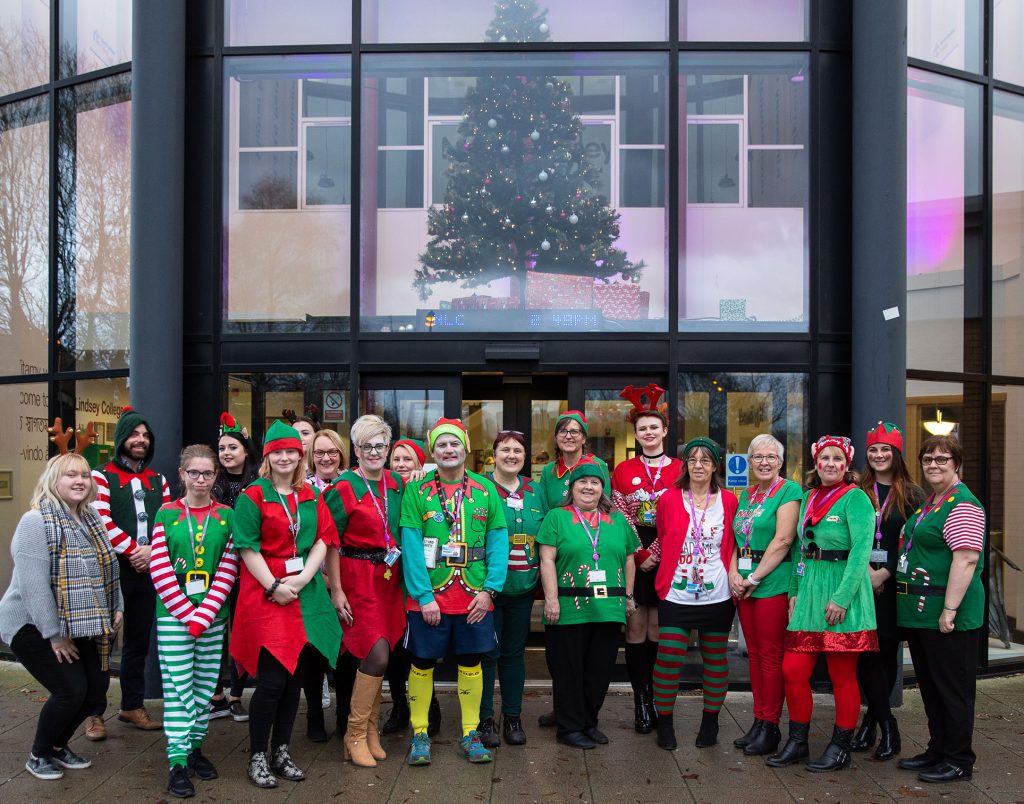 For the second year running, the College has been overrun with Elves to support Elf Day which is a festive themed fundraiser for Alzheimer's Society which encourages participants to get into the Christmas spirit and dress up as elves for the day.
Organised by Health and Social Care tutor, Emma Buttrick (39), the event raised £173 which has helped support a variety of local Dementia and Alzheimer's services.  This fundraising has helped to support the 'Singing for the Brain' choir for several months, including a Christmas party and entertainer, a donation to Peggy's World, supporting resources and a Christmas party.  St Mary's Care Home have also received a donation towards their residents Christmas party.
Norwood House, a local residential home, who specialise in Dementia care has also received a donation to help pay for entertainment in the home and supporting residents on external outings.  Diane Cooper (Manger at Norwood House) said, "We are really grateful for any donations that we receive to help towards outings and entertainment for our residents that will be enjoyable for them. All the fundraising that Emma is doing is absolutely wonderful, she is such a lovely lady."
 Emma has pledged to fundraise locally after finding herself personally affected by Alzheimer's after a member of her family was diagnosed.  Emma wants to help local services that provide support and care for people and families living with Alzheimer's and Dementia. So far, Emma has raised over £3000 over the last two years which included a skydive earlier in the year.
Emma said, "I am over the moon that we have managed to raise so much money for local organisations.  Knowing that the money will go directly to helping our local community is very rewarding and hopefully will make a difference.  I am grateful to everyone that supported Elf Day at the College and am looking forward to even more fundraising activities next year."