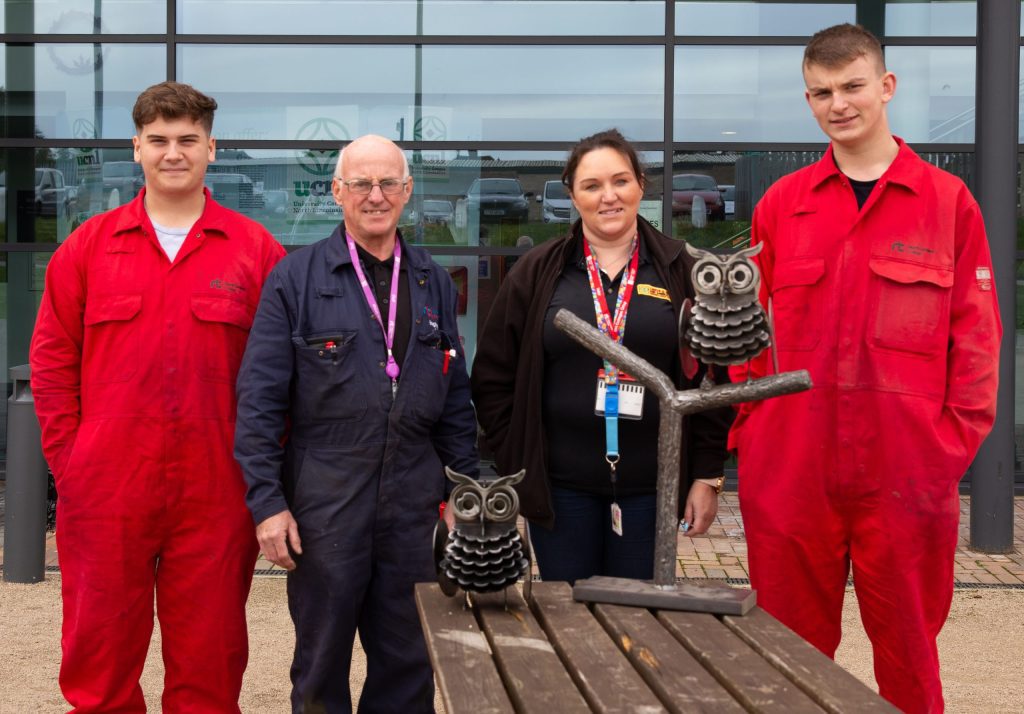 Over a thousand pounds has now been raised by the fabrication and welding department at North Lindsey College, with the latest fundraising efforts going to Lincs & Notts Air Ambulance, where a cheque for £540 pounds was presented. The first donation of £500 was donated to the Lindsey Lodge Hospice.
The students have been creating garden sculptures from surplus metal that they have been welding together as part of their skills practice.  The sculptures created comprise of owls, dragonflies, butterflies and dragons which have been constructed around their coursework.
Faye Nam (Lincs & Notts Air Ambulance) said, "It's absolutely amazing to see the sculptures and the time and effort that has gone into these.  The money raised really will make a difference. Our crew are only called out to the worst incidents across Lincolnshire and Nottinghamshire. We attend on average 3 potentially lifesaving missions every single day. Every time we fly, it's because people like North Lindsey College raise money for us. Without the support of the local communities, we would not be here to help so many people. We really cannot thank our fundraisers enough."
Faye also explained the service costs are increasing to approximately four million each year with the increased hours of flying 24 hours a day, 7 days a week.  Also the team can also be present and at a call out within 15 minutes, with the crews on board being able to deal with a vast amount of time critical incidents which may involve spinal and head injuries.
Phil Scott (Learning Facilitator at North Lindsey College) has been leading this project and said, "I was one of the original fundraisers for the Lincs and Notts Air Ambulance in 1994.  It's just a good cause and you never know when you may need this service as well as supporting a local charity."
Chris Swales (Level 2 Fabrication and Welding student) has been said, "It's a good local cause and will help save lives, every donation helps out.  I didn't realise how much it costs for all call outs so it is good to be aware of this."