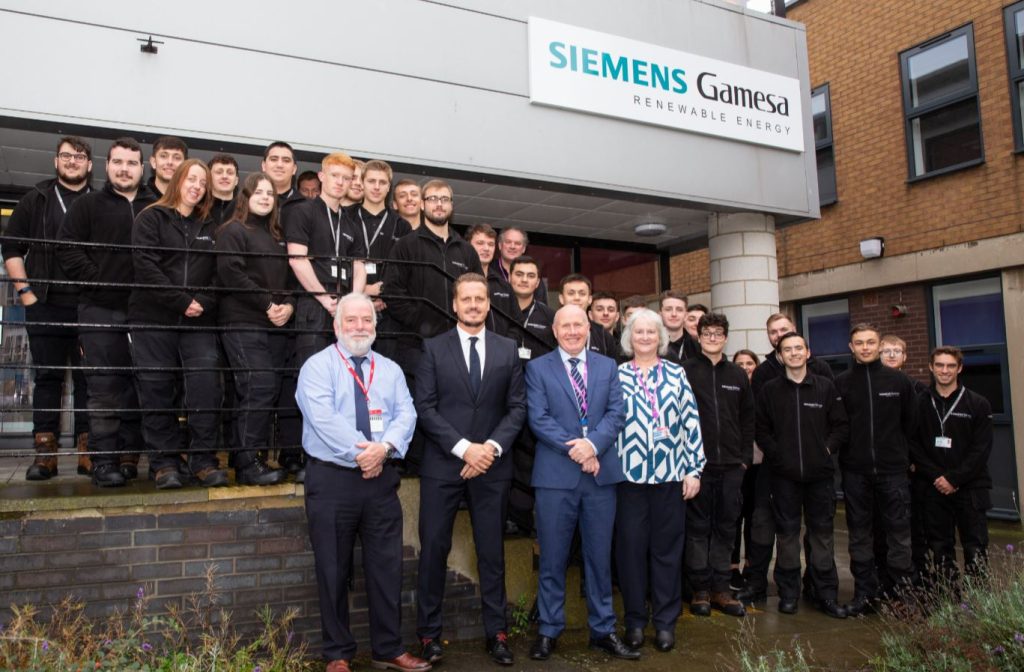 The apprentices began their journey in September 2019 and will undergo a rigorous schedule to qualify as Wind Turbine Engineers with Siemens Gamesa. The apprentices, who come from as far afield as Scotland and across the UK, were shortlisted from hundreds of applicants to join one of our national leaders in renewable energy.  The apprentices will split their time training at the dedicated
Siemens Gamesa training facility at the College and then after their first fifteen months go on site around the UK to further develop their skills and knowledge in the workplace.
Caitlyn Calder (Siemens Gamesa Apprentice) has started on the apprenticeship programme, having travelled from Scotland.  She said, "I chose the Siemens Gamesa apprenticeship as we are really well supported throughout our apprenticeship and it offers a fantastic opportunity for our future."
Jill Cooper (Business Development Director, North Lindsey College) said, "It's been a pleasure to welcome the Siemens Gamesa apprentices to the College. This is an exciting time for us and for the team delivering this new mechatronic based apprenticeship. The apprentices are living in Hull and commuting together each day to College and will eventually be commuting to work potentially via helicopter once they are out in the workplace. It's a fantastic start to a career with excellent opportunities and we are proud to be working with Siemens Gamesa with their apprenticeship provision."
"Where business success and high levels of customer satisfaction are paramount, it is essential that we continue to develop these young apprentices to the highest technical level we can. The work in the background that has been undertaken prior to the apprentices first day at college has been impressive and I am confident that the team at North Lindsey College will deliver the high level of competence demanded by business and we will continue to ensure that our apprentices become the best technicians we have."  said Danny O'Rourke (Operations Apprentice Manager, Siemens Gamesa Renewable Energy).
Billy Gamble (Siemens Gamesa Apprentice) who is originally from Kent said, "We are currently working on getting a good base knowledge, so we are all the same standard. In the first month we have learnt about fitting techniques and how to use the handheld equipment. I didn't want to go to university as studying through an apprenticeship you get paid to learn as well as get a qualification."
The College also has business administration apprentices with Siemens Gamesa in Hull and Newcastle and an apprentice on the safety, health and environment technician level 3 apprenticeship.