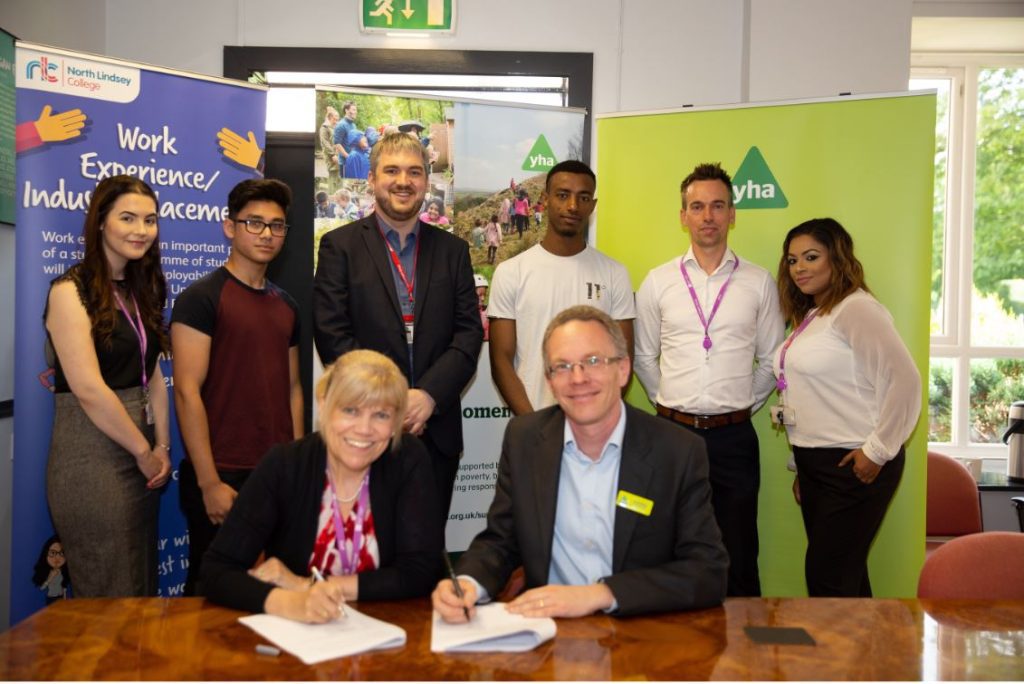 As part of the partnership, North Lindsey College will be encouraging its students to undertake a minimum of 30 hours work experience at YHA's youth hostels.
Marking the official partnership, a Memorandum of Undertaking (MoU) was recently signed by James Blake, Chief Executive of YHA (England & Wales) and by by Anne Tyrrell, Chief Executive Officer at DN Colleges Group on behalf of North Lindsey College.
The official partnership follows a successful pilot last year which saw more than 90 of the College students gaining 1000 hours of invaluable industry work experience at eight youth hostels in Lincolnshire, Derbyshire, Lancashire and Nottinghamshire, including YHA Hartington Hall, YHA Mankinholes, YHA Ravenstor, YHA Thurlby, YHA Sherwood Forest, YHA Castleton Losehill Hall, YHA Eyam and YHA Haworth.
The pilot programme saw North Lindsey College account for 9% of the charity's total youth volunteering programme in 2018/19.
During the pilot, students took part in a number of projects at the youth hostels, including painting and decorating, kitchen, housekeeping duties, weeding and litter picking, fixing Roman shields and goat sheds, building bug houses, gardening duties and food service.
Maria Cornea, (an English for Speakers of Other Languages (ESOL) student) aged 17, completed work experience at YHA Sherwood Forest, YHA Castleton Losehill Hall and YHA Thurlby said: "The work experience was enjoyable. I got involved in some painting and met new people. It was good to be involved."
The MOU formalised a year of best practice and also laid out further plans to increase the amount of East Lindsey College students to take up the volunteering opportunity, include residential group volunteering and individual student helping run youth hostels.
James Blake commented: "Working with North Lindsey College has allowed us to pilot new ways to develop and grow youth volunteering and it has been hugely successful. As a charity we rely on volunteers to enable our network of youth hostels to operate financially sustainably and continue to provide affordable stays in our fantastic accommodation for young people and their families. Importantly, our volunteering programme is also a brilliant opportunity to help young people gain meaningful work experience and training that will help them have access to many more opportunities.
"We feel passionately about being part of the vision for civil society so I am delighted that through this partnership, North Lindsey College students can build ambition, have a more positive outlook and show their true talent."
Hasina Kamali (Work Placement Team Leader at North Lindsey College) said: "Over the last couple of years, North Lindsey College has built a fantastic relationship with YHA in which we have been working with eight hostels in total, supporting with building and grounds work.
"Our students have gained some extensive skills which has helped with project skills, team building and their self-confidence. Last year over 90 students from various curriculum areas visited the different hostels, bringing a unique industry experience to add to their CVs. This new partnership will now bring new and existing opportunities for our students to further develop their skills to support the leading charity."
YHA celebrates its 90th anniversary next year. The partnership with North Lindsey College is one of a number YHA is developing ahead of the launch of its new 10-year strategy in 2020.  The strategy will see the youth charity work with a range of partners to support YHA's shared goal to improve health, bring communities together, promote diversity and inclusion and improve the life-chances of those at a disadvantage.