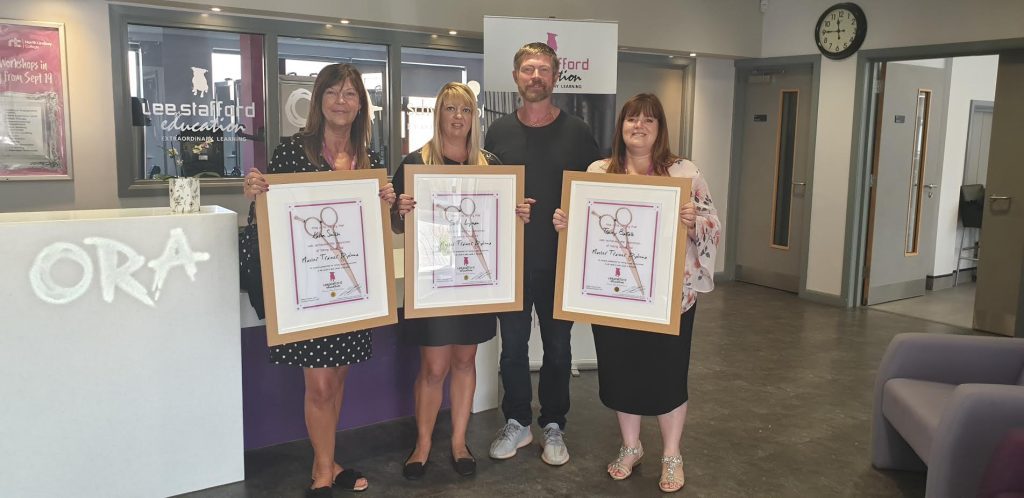 Lee Stafford visited the College, to personally hand deliver the awards to the staff.  The staff had to undertake rigorous industry training to be able to deliver sessions to students.  The staff had three years to complete the full training but completed ahead of time in just eighteen months.
Lee said, "Nothing makes me more proud than to see dedicated hairdressing staff embracing Lee Stafford Education philosophies.  It is an honour to be welcomed into the College and to see the impact of our training has made on Karon and her team.

It's great to see that they've learnt so many new skills along the way."
The training programme has been developed by Lee, which sees Further Education staff learning 22 key recipes.  Each recipe must be mastered in order to progress in the training programme, which takes passion, determination and the ability to achieve the same look desired from each trainer.
Karon Smith (Curriculum leader Hairdressing) said, "It's been an amazing journey for everyone, staff, students and clients.  Being part of the Lee Stafford Education has enabled us to deliver training to students knowing they are getting a first class education.  The recipes are very standardised, and staff have been fully committed and motivated to complete the programme in such a short time for the benefit of our students.  I can't thank the College enough for supporting our CPD requirements which are mandatory in the industry."
The students at North Lindsey College provide all of the services as part of their training at the College's custom built facilities. They work under the supervision of their lecturers to gain valuable experience in a real salon environment to be able to offer these services to the general public, at the College's Ora salon.
Anyone interested in making an appointment is to contact the Ora hairdressing department on 01724 294095.  For students wanting to enrol – it's not too late!
Contact Customer Services on 01724 281111 and be part of the Lee Stafford Education.