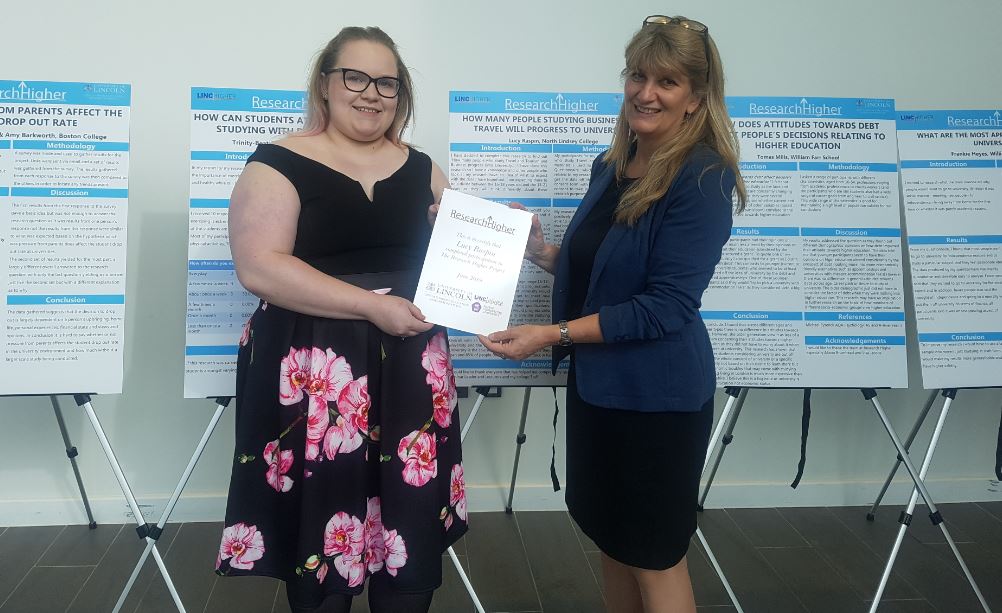 North Lindsey College travel student, Lucy Raspin, graduated from the University of Lincoln with a Level 3 qualification in research.
The graduation ceremony took place at the University Lincoln on Wednesday 5th June at 4pm. Certificates were presented by, British academic archaeologist and television presenter, Carenza Lewis.
Lucy took part in the six-week research project at University of Lincoln enabling her to achieve the qualification alongside studying for a Level 3 Diploma in Travel and Tourism at North Lindsey College
At the event, Lucy had the opportunity to present her research findings, which focused on student's progression on to Higher Education. The purpose of the qualification was to develop students' research skills in preparation for university.
Former Melior Community Academy student Lucy  said, "'The course was a great experience that allowed me to develop team building and independence skills. I really enjoyed the experience of HE seminars and lectures with around 100 peers.''
Kayleigh Grierson, Travel and Tourism Tutor at North Lindsey College said, "It was a fantastic to be able to share the experience with Lucy. As her teacher, I am very proud at how hard she worked to ensure she was successful. Lucy always challenges herself in everything she does".
Photo: Lucy Raspin (left) with Carenza Lewis
For further information contact Emma Doyle from the Marketing Team on 01724 709308.