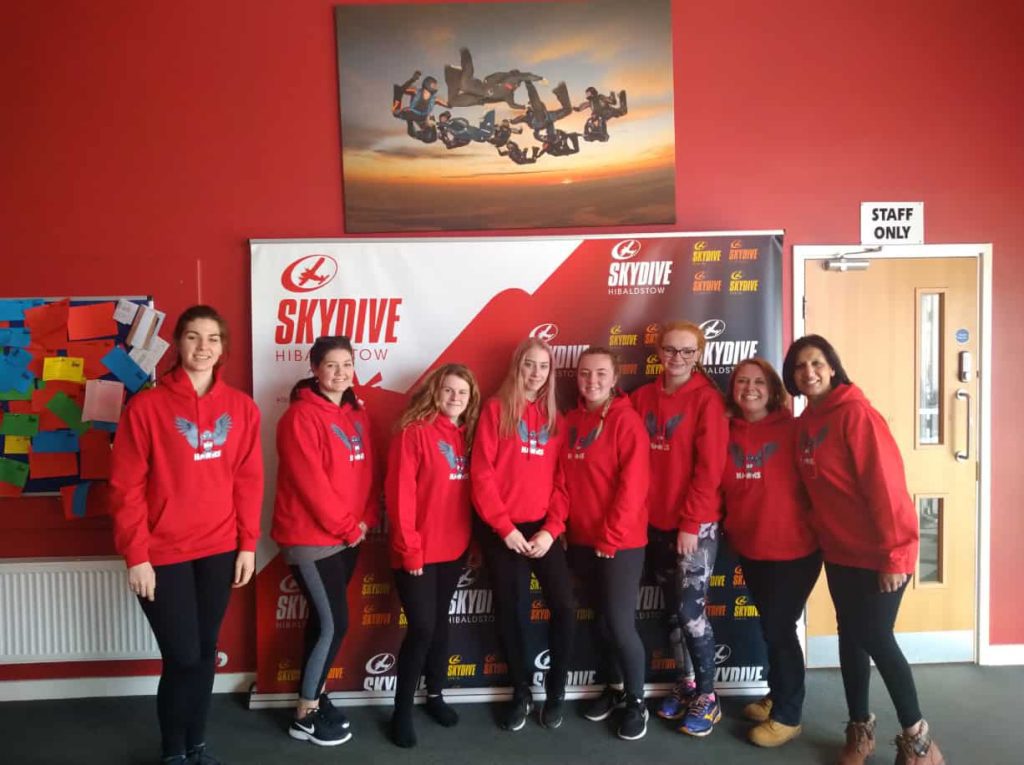 A first for the College, the NLC Hawks Skydiving club is now in operation with the first all-female group of staff and students having already jumped out of an aeroplane at 4000 ft.
The Hawks first skydive took place at Skydive Hibaldstow who offer Tandem Skydiving, Accelerated Freefall (AFF) and Static Line parachuting courses from up to 15,000ft under the regulations of the British Parachute Association. The sky diving instructors have combined jump numbers in excess of 30,000 jumps and over 75 years' experience.
There are a variety of parachute jump options available for the staff and students to take advantage of.  The Hawk's first skydive was the static line parachute which saw the students jump from the aeroplane on all their own!
Lucy Eaton (17), said, "It was really good and I am now looking to do my third jump.  It was really scary when I was sat in the edge of the plane waiting to jump but it was really an amazing experience.  It is also for people who have not thought about sky diving before and I would recommend it as we get to do it in a group too."
Tutor Frenchy Grieswood (Sport and Uniformed Services Lecturer) has been keen to get the new club running stated, "By introducing a North Lindsey College Skydiving Club, we have demonstrated that we can be bold, think outside of the box and show forward thinking by continuously pushing staff and students to reach beyond what they believe to be their limits. There is only one other academic establishment in the UK which has a Skydiving Club, that is York University, making us the first further education club. The first mixed group of staff and students have already taken the plunge and jumped together. I hope that the club will continue to develop over the years and introduce more and more people to an exciting, exhilarating sport. There are also other opportunities such as apprenticeships and work experience that may come from this. Hibaldstow also has two other sister companies in Portugal and Spain. The future is in Skydiving!"
This once in a lifetime opportunity will see the Hawks in action with their second skydive taking place in May.