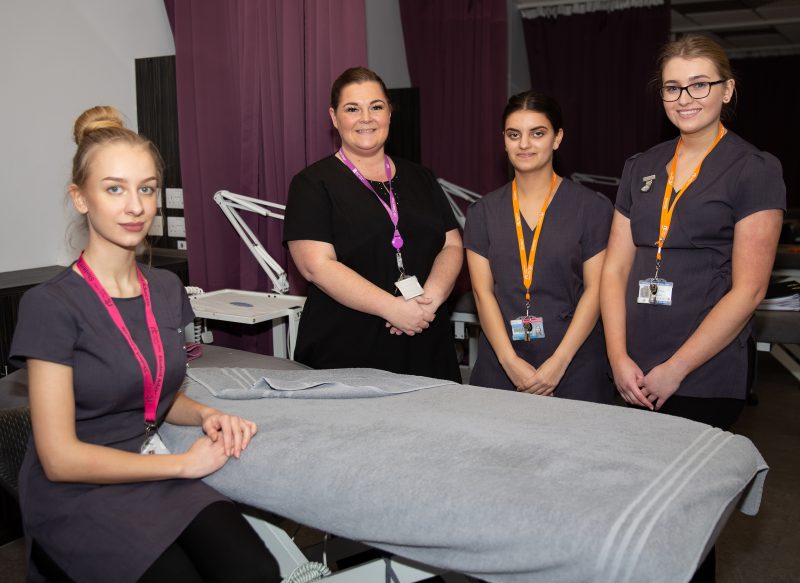 Ragdale Hall Spa is one of the most extensive spa facilities in the UK and this fantastic opportunity enabled the beauty enthusiasts to sample some of the most prestigious facilities in the UK. The College is usually offered two placements at the retreat, but staff were so impressed when they came to the College to see the students working they offered four placements.
The second year students had a full itinerary as part of the placement, which included training in Elemis Beauty products, shadowing a therapist, setting up of rooms, reception duties, bookings, beauty shop duties and client records. The students also participated in two fitness classes with clients including Zumba and Aqua Tone.
Phoebe Peers (18) from Baysgarth School said "It was really beneficial as Ragdale is really prestigious and we learnt a high level of industry experience. The facilities are out of this world – they are just amazing.
"I want to go into the spa industry and this work experience really made me believe that I am training in the right industry. It was really nice to see behind the scenes and how a spa operates. The staff are fantastic and really go above and beyond for their clients."
North Lindsey College students have been going to Ragdale Hall Spa for many years' work experience. North Lindsey College tutor, Helen Holden said "As a Ragdale Hall College of excellence, students are given the opportunity to trade test for a weeks' placement at the prestigious Spa in Melton Mowbray.
"Ragdale Hall is an award winning spa which provides an exciting range of career opportunities for our students and has employed many of our beauty students in the past. The selection process is rigorous and the students complete a range of treatments to show case their skills to a member of the Ragdale Hall recruitment team.
"This year Ragdale Hall were so impressed with the skills and professionalism of the students, they offered them all the chance to complete the week's placement. This is a first for us and as a tutor, I was extremely proud! The students received excellent feedback and were all encouraged by Ragdale staff to apply for employment when they complete their studies in June."