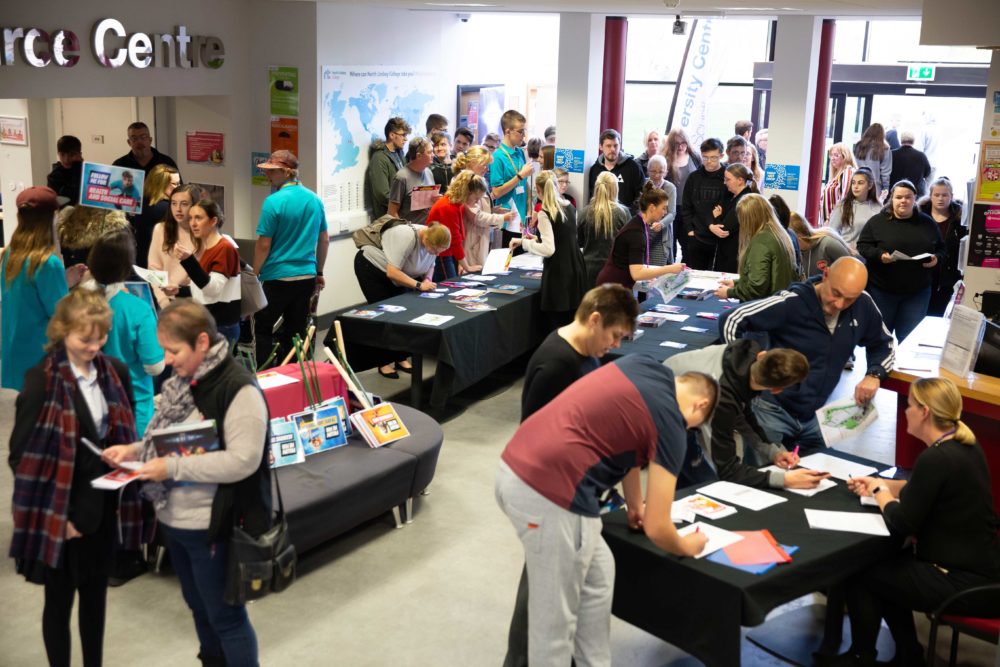 North Lindsey College's October open evening proved to be a huge success this year, welcoming over a thousand visitors through the doors for this annual open event.
All curriculum areas had the opportunity to show off their facilities and programme
offerings to the public, with all visitors encouraged to tour the College to chat to
tutors, current students and see the investments around campus for themselves.
Parent Sam Bainbridge (47) was wowed by the College and the facilities, "it's been
just brilliant. The staff and students informed my son just what he can go on to
achieve. The tutors have been really informative which is just what you need. I will
be very happy for my son to attend here."
Hair and beauty created a student showcase focusing on movie and TV styles,
Travel welcomed back former students who are now working with Thomas Cook,
Humberside Airport and Jet 2 and the multi million pound Engineering Technology
Centre was buzzing with hands on activities for visitors to have go at.
Stella Nobel (15) from Outwood Brumby Academy attended the event and stated, "I
had a good look around all the areas, they all look so good!"
Musical performances and dance displays created show stopping demonstrations,
and the Construction department invited the public to have a go at a wide variety of
trades.
Engineering demonstrated robotics, plasma cutting, virtual welding and the CNC
design. Animal care demonstrated dog grooming and animal handling whilst art and
design worked on monster and Christmas themed projects. Motor vehicle was
supported by Humberside Fire and Rescue, British Transport Police, Army SVR
display, Midnight Modified Cars, Ford and the RS Owners Club.
The Mayor of North Lincolnshire, Councillor, John Briggs was invited by Principal
Mick Lochran making a special visit to the event and spending over two hours
touring the College and said, "What a wonderful and positive evening. I'm very
impressed with the facilities but even more so with the students. A brilliant place!"