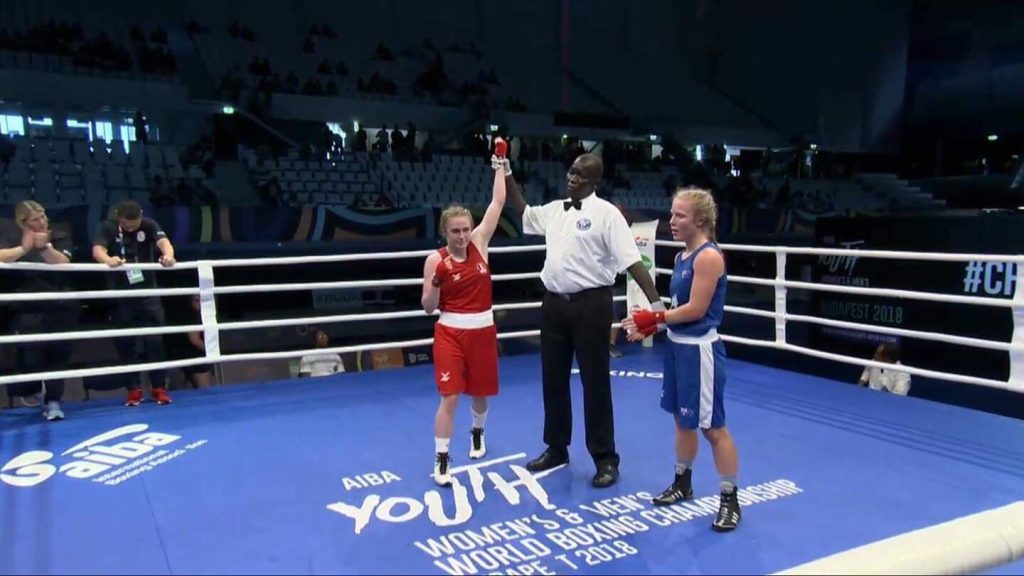 Sport student, Gemma Richardson (17) has been crowned AIBA World Champion Youth Boxer 2018 at Budapest's Duane Arena, Hungary.
North Lindsey College is proud to welcome Gemma back to the classroom following
her AIBA Women's Youth World Championship bout. Gemma is not only now a
World Champion but also a sport student and advocate of the College's Boxing
Academy.
Ian Hamilton (North Lindsey College Curriculum Leader in Sport and Uniformed
Services) said, "As a department we are so proud of Gemma's achievements. She is
such a dedicated and disciplined individual who gets up early and completes her
training before coming into College. She is so focused in representing team GB at
the Olympics and has set herself clear targets. She combines her studies and her
boxing extremely well and has all the attributes to work within the fitness/boxing
industry. Last academic year Gemma delivered boxing coaching sessions to NLC
learners at Scunthorpe Boxing club giving learners across the College the
opportunity to see how physically fit and how demanding the Sport of Boxing is. We
look forward to welcoming Gemma back this year as she enrols on L3 Personal
Training and we will continue to support her combine her academic studies with her
training and competitions. Once again a huge congratulations from everyone within
the Sport and Uniformed Services department to Gemma Richardson – World
Champion."
Gemma says that she will be able to handle the pressure that comes with being a
world champion, "It gives me loads of confidence" she said. "You need that bit of
pressure to make sure you are training hard and staying on top of things. But to be
the best you cannot let the pressure get to you or you will lose before you even get in
the ring but you need a bit to keep you training hard."
"It is a massive achievement to win and took a couple of days afterwards. But I am
over the moon and can't believe it."
Gemma's Dad and Coach, Andy Richardson, was delighted with her achievement
stating, "Gemma is only the second England boxer to win a world youth title so this is
an amazing achievement for her. Gemma went in very confident especially after
winning the last 2 years European championships and going in to the world
championships as one of the names to watch for on her performances; she certainly
delivered."
Gemma had an intensive eleven week training camp to prepare her for the biggest
tournament of her career before travelling to Budapest, Hungary which involved a six
night stay and four fights.  A report from the Women's Light Welter (64kg) defined
the final as, 'A brilliant Women's Light Welterweight Final unraveled between India's
Manisha and England's Gemma Richardson, two technically excellent boxers who
clearly thrived on the big stage as they delivered three rounds of pure entertainment.
Richardson has truly found her space, and despite Manisha's incredible evasive
maneuvers, it was the English who found the perfect range and rhythm to deliver
herself a richly deserved gold.' (AIBA, 2018)
"Gemma is looking to compete at the Commonwealth Games on home soil and then
the Olympics in 2024." said Andy Richardson.