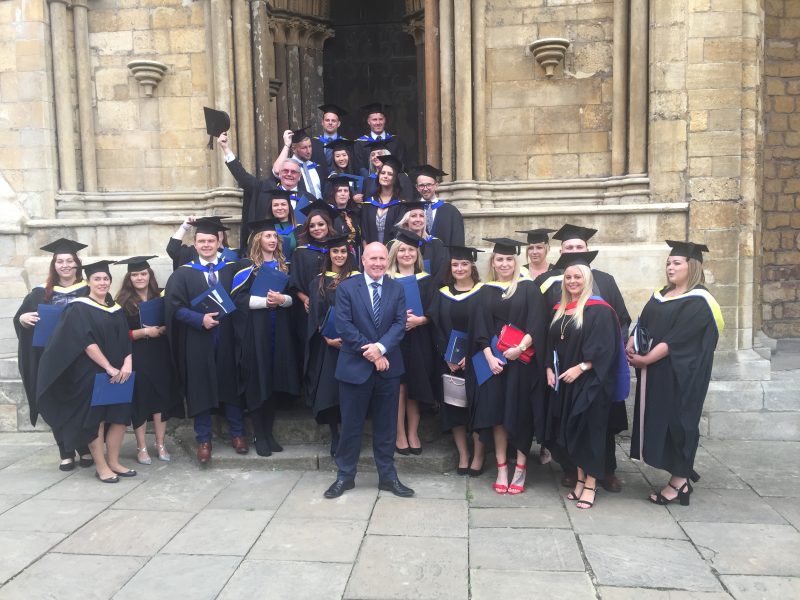 118 local students have graduated at Lincoln Cathedral to celebrate their success, having achieved their undergraduate award with the University of Lincoln.
With 28 years of delivering higher education, the University Centre continues to
grow, in terms of student numbers, successful outcomes and reputation. This year,
the University Centre will welcome over 1100 students, with them studying a range
of HNCs, HNDs, foundation degrees and bachelor degrees, with our partner
universities, which include the University of Lincoln, University of Hull, Sheffield
Hallam University and University of Huddersfield.
Steven Johnstone (Director of HE Programmes) stated, "The sense of pride,
watching our students graduate on completion of their award is immeasurable.  As
University Centre staff, we hold such a privileged position in watching our students
grow and develop over the years they are with us.  Graduation is the culmination of
all their hard efforts and determination, wrapped up in such a fantastic day, enjoyed
with their families and friends."
Hasina Kamali said, "I recently completed my BA Hons Business Management
alongside working full-time. Starting university whilst working was a huge decision to
make and now I look back on this as the best life decision I made. The course itself
was challenging, stimulating and engaging. It helped me grow as a person and
develop within my role at work. I made some great new friends and the lecturers
were so supportive throughout my journey."
A celebratory event took place in the Castle grounds, after the ceremony, bringing
together graduates from a wide range of programmes from both the University
Centre and the University of Lincoln. Hasina commented "I graduated at Lincoln
Cathedral which is an amazing venue and I met some inspirational people on the
day. I would highly recommend this degree to anyone considering it and can say this
with confidence, once you make the decision you will never look back."
Places are still available for 2018 enrolment for part time and full time. For any
enquiries, contact The University Centre at North Lindsey College on 01724 294125
or email he@northlindsey.ac.uk.