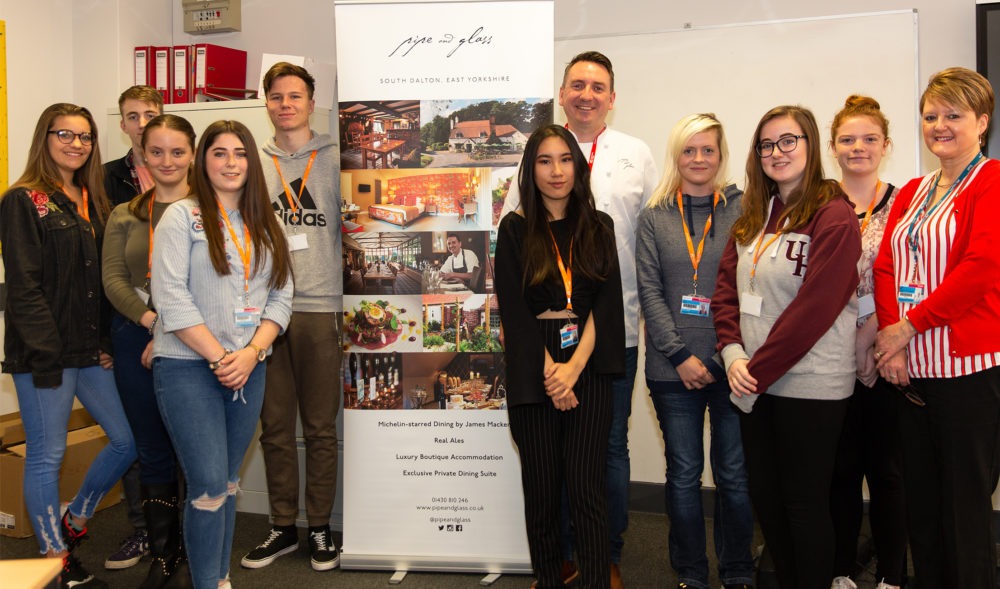 James Mackenzie from renowned East Yorkshire establishment the Pipe and Glass came to North Lindsey College to offer up-to-date sector advice to catering students.
Second year students benefitted from James' years of experience during a guest
lecture, where he offered them a first class work experience opportunity at the former
coaching inn set in the glorious surroundings of the Dalton Estate.
"It's great to get involved with colleges and speak to students about their ambitions,
their likes and dislikes and inspire them to be the next big thing in the industry," says
James. "I hope to see some of these students on work experience with me. My
advice to them is that hard work really does pay off."
James and Kate Mackenzie have run the pub and restaurant since 206 and have
gained an international reputation and many major awards, including a Michelin star
(held since 2010). James spoke not just about food, but the importance of
cleanliness, the aim to make everyone feel welcome, regularly changing menus and
attention to detail.
James also gave personal advice to the students that he has learnt on his journey
which included employer loyalty and concentrating on their CVs and have ambition
and passion.
Student Adam Nicolas, 17, Level 2 Certificate in Professional Cookery is wanting to
follow in James' footsteps and said, "James was very inspirational and I found his
advice very useful. I'm hoping to be a patisserie chef and even have my own bakery
one day. He also told us to get experience in the industry to see what suits us best."