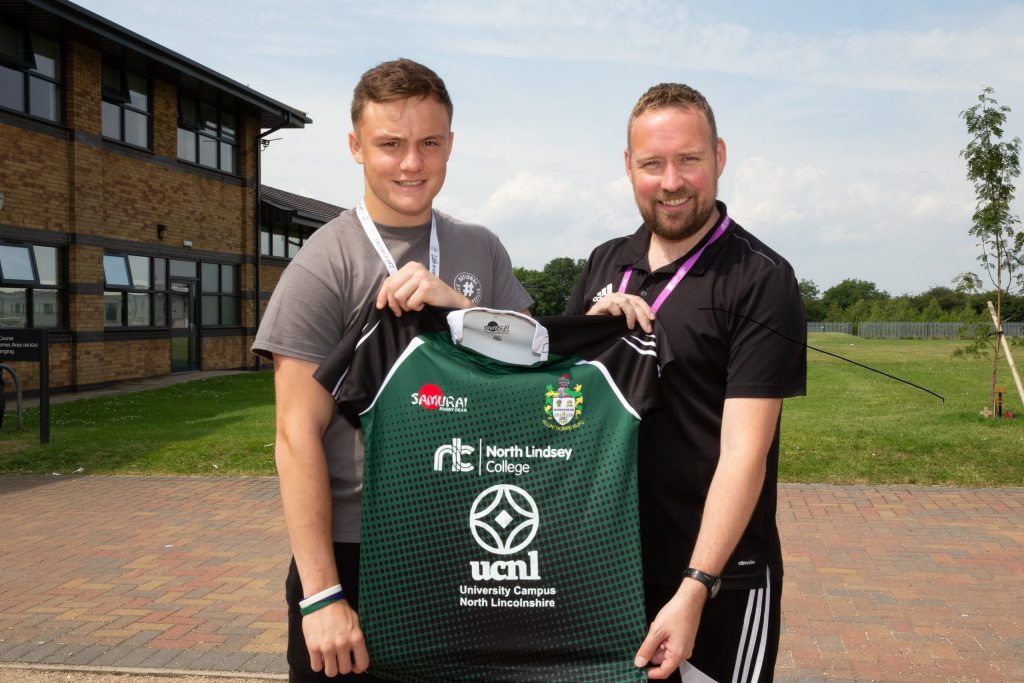 The deal was agreed after College's own rugby academy has continued to thrive with many of the youth team progressing onto sports courses after leaving school.
Through the sponsorship, junior members will receive a branded shirt for them to keep and wear when they are at the Rugby Club and during their training sessions.  The sponsorship will incorporate the North Lindsey College branding on the new junior rugby shirts from September 2019 with excess of 300 shirts being printed.
Ian Hamilton (North Lindsey College Sport and Uniformed Services Curriculum Leader) said "It is great that we have sponsored the Rugby Mini Junior section. We have a Rugby Academy here at North Lindsey College with coaches from the Scunthorpe First team.  I am delighted that our relationship is going from strength-to-strength and I look forward to seeing what the future holds for our rugby enthusiasts."
The sponsorship branding also includes the logo of new UCNL (University Campus North Lincolnshire) which is due to open in September 2019.  The UCNL will see many college students progress onto Higher Education in a variety of courses, including the Sport and Exercise and Coaching Science programme.
Colin Chapman (Sponsorship Co-originator at Scunthorpe Rugby Club) said, "It's great that we can build on the Rugby Academy at North Lindsey College and build stronger ties with the Scunthorpe Rugby club, working together for those wanting to study and progress with their rugby."